Saturday 21st May 2022
Bullough Cup
Bute 4 Aberdour 1 ( report by John MacCallum)
Another home game and another victory for Bute's second team however the score line was more convincing than the performance with Bute forced to work hard for the win and only cutting loose towards the end of the second half. Bute have made a habit of scoring early goals on their home turf and this was no exception with John MacCallum finding the bottom corner from close range after only 10 minutes. The home side failed to capitalise on this and Aberdour came more into the game as the half wore on, winning skirmishes in midfield and half forward to keep the ball in the  without ever testing Gordon Currie in goals but forcing Bute to rely on breaking on the counter attack. When Bute did move the ball through forward line there were chances available but Bute were unable to add to their lead before half time.
The second half started with Bute's midfield of Ronnie McMillan, Aiden McGregor and Ben Watson striving to gain a foothold in the game and as the game wore on they managed to establish a firmer grip on the game. Manager Stewart Stirling made a tactical shuffle as McGregor was moved forward into the attack and this move paid immediate dividends with finely taken strike doubling Bute's lead. Bute remained in the ascendancy and their strong defence of Chrissy Lawrence, Iain Crawford, Reuben Doyle and Ryan Tierney were comfortably staving off any Aberdour attacks and strangling them of possession high up the park laying the building blocks for Bute's attacks. With Bute pressing for more goals Ruiraidh Soane channelled his inner Thor and unleashed two thunderous strikes in short succession, the first which Roddy MacColl's lightening reflexes managed to tip over the bar and the second which cannoned off the upright.
Just when Bute thought the game was put to bed Aberdour snatched a goal from a high looping shot from wide on the right by Joseph Burns on 83 minutes.  This gave the visitors heart that they could mount a comeback however Bute moved quickly up the gears and Iain McDonald contributed his usual goal on 85 minutes to restore the 2 goal cushion before the goal of the game from Craig Speirs, whose deft first touch inside on the run completely wrong footed the defender and his powerful drive smashed into the net inside the post to wrap up the win.
Bute now have a semi final in the Bullough Cup to look forward to but it is back to league duty this Saturday afternoon when Bute travel to play Aberdour for the third time this week and the second Saturday in succession.
Saturday 21st. May 2022
South Division 1  Cruachanside 1 Bute 6
Bute travelled to Taynuilt full of confidence following a run of excellent results which took them to the top of South Division 1
They were soon brought down to earth when the home side found the back of the net after just 30 seconds through Kyle McFarlane. This stung Bute into action and they pressed forward in numbers looking for an equaliser, this duly came in the 10th minute when Craig Fisher added to his recent scoring run with a fine shot which flew past the home keeper. Bute continued to dominate the game in the first half and two more goals came along through Scott Harvey in the 15th. minute and another from Craig Fisher just before half time giving the away team a comfortable three one lead at the interval.
The second half began with more of the same, Bute constantly on the attack going further ahead in the 50th.minute when Scott Harvey again found the back of the net. The home team were struggling to get out of their half of the pitch and the Bute pressure resulted in a defender kicking the ball in the area giving away a penalty which Scott Harvey duly dispatched high into the back of the net to complete his hat trick.
Manager James Craig then took advantage of this comfortable lead to once again give game time to promising youngsters Liam Ferguson and Rory McDonald and they both proved worthy of his confidence in them slotting seamlessly into Islanders system of play.
There was no let up in the attacking play from Bute and Scott Harvey scored his fourth goal and his teams sixth as the the clock ran down to the final whistle.
Manager James Craig was once again delighted with his teams display and the continuation of their winning streak, he did however say that next Saturdays Camanachd Cup tie away to Premier League team Glasgow Mid Argyll would be a much sterner test of their ability and resolve.
South Division 2
Bute 3 Kilmory 0
Bute were hoping to bounce back from their first defeat of the season against Inveraray in the Sutherland Cup the previous Saturday when the put their unbeaten league record on the line at home to Kilmory. Regular goalkeeper Gordon Currie had been promoted to the first team so Bute welcomed the experienced Paddy Queen back between the posts, however he was rarely called into action following a comprehensive victory.
Bute raced into a quick lead with Iain McDonald's low drive finding its way past the Kilmory keeper who will feel he should have done better. Bute were the better team in the opening part of the first half with McDonald, Archie Kilpatrick, Craig Speirs and Neil McKirdy all combining well and creating chances without troubling the keeper further.
As with all Bute's victories this season, the performance was underpinned by a solid defensive effort with Chris Lawrence dominant at half back. He was flanked by the equally impressive Reuben Doyle and Archie McNaughton who barely allowed a ball to pass by them all day and on the rare occasion a Kilmory foray threatened the Bute goal full back James Dunn swept up and cleared his lines.
In midfield Ewan McMillan's strong running and dribbling was keeping the pressure on the Kilmory defence while captain for the day Iain Crawford was outstanding in an unfamiliar wing centre position battling for possession and driving his team forward at every opportunity.
Bute welcomed Liam Ferguson and Rory McDonald as substitutes following their exploits with the first team in Tighnabruaich. Ferguson put in a commanding shift on the wing while McDonald tested the keeper with his usual display accurate and powerful shooting. Substitute John Wilson teamed up well at full forward creating shooting opportunities for his team mates.
Despite dominating the second half completely it took until the 70th minute to put some gloss on the scoreline with Iain McDonald bagging his second of the day and completed his hat trick on 85 minutes with a pair of well taken finishes.
Saturday's match was kindly sponsored by John McIntyre. Bute are at home to Aberdour in the Bullough Cup quarter final this coming Saturday.
South Division 1
Kyles Athletic 1 Bute 4
Bute travelled to Tighnabruaich on the back of two fine wins against higher league opposition Aberdour to face a Kyles team who have not had the best of results this season.
The early part of the first half was a fairly even affair with the away team perhaps just having more of the play although neither goalkeeper was seriously troubled.
The breakthrough for Bute came in the 23rd. minute when Franco Devlin cut in from the right and unleashed an unstoppable strike past the home keeper. Bute then started to exert more pressure on the Kyles defence but could not add to their lead until the in form Josh Cowan found the back of the net after 30 minutes with another unstoppable strike from 20 yards. We then had a burst of attacking play from the home team which led to a fine goal from Dave Martin after 39 minutes and it was once again game on.
This goal spurred the Bute team into action and they took more control of the game, Scott Harvey chased a long ball into the D, knocking it past a defender and then the keeper before flicking it into the net from a narrow angle to restore his teams two goal lead. The game as a contest was effectively over in the 44th. minute when Craig Fisher had a half hit shot from the right of the goal which deceived the keeper and ended up in the back of the net to leave Bute 4 – 1 ahead at half time.
The second half saw Bute take total command of the game as wave after wave of attack was directed at the home goal, it was only due to an fine defensive display from Kyles and their unflappable keeper, combined with woeful shooting from the Bute forwards that no further goals were scored. The extent of Butes domination in the second half was shown by their goalkeeper only touching the ball once in taking a bye hit during the 45 minutes. Credit must be given to Kyles for not at any time giving up under this pressure, special mention for the first class display by the two girls in their team who proved to be a match for anyone on the field of play.
This win puts Bute top of South Division 1 with next up for them an away game at Taynuilt against Cruachanside on 21st. May.
Sutherland Cup Final
Saturday 8th April 1972
Bute 2 Aberdeen University 1.
We are holding a 50th Anniversary dinner/ceilidh in the clubhouse on Saturday 18th June 2022 to mark our win. (better late than never)
We would like all of the winning team and their partners to attend and reminisce on the events of the day, those that can remember that far back, there might be many different versions.
We would also extend the invitation to all those players, along with their partners, of our many Balliemore Cup wins, we would like it to be a celebration of all our achievements.
We are limited in numbers for the dinner, after the winning teams have been taken care off any remaining tickets will be made available for members.
We would welcome other members coming along after the meal to enjoy the Ceilidh.
Tickets are £20 each, 7-00pm for 7-30pm.
£5 for the ceilidh only.
Saturday 7th. May 2022
Sutherland Cup
Inveraray 1 Bute 0.
Bute travelled to Inveraray on Saturday 7th May for a Sutherland Cup tie.
The young Bute team were up against a much more experienced home side however a two each draw in the league earlier this season meant they travelled with confidence in their ability to compete.
The game was a very even and close encounter with the Bute defence coping with the home team attack giving little away in chances and the away forwards making chances without being able to make them count.
Inveraray scored the only goal of the game through David MacPherson in the 55th minute, the fact that this was there only shot on target was testimony to the strength of the Bute defence.
Bute did have several opportunities to level the score however they were unable to take them and the home defence held out to record a narrow victory.
Despite the disappointment of losing his experience will stand the young Bute players in good stead for the remainder of the season. Captain Liam Ferguson and Reuban Doyle did exceptionally well in containing the home attack which fielded several players with many medals at senior national level.
This Saturday Bute are at home to Kilmory in a South Division division fixture with a 2-30pm start.
Balliemore Cup 1st Round
Bute 2 Aberdour 1
Following on from their 5 nil victory away to Aberdour in the Macaulay Cup the previous Saturday Bute welcomed them to the Meadows for a Balliemore Cup tie.
Despite the previous scoreline line Bute were anticipating a much more determined Aberdour team and a much closer game. This proved to be the case in a very competative encounter that went down to the final whistle.
The first half began with both teams going all out in typical cup tie fashion and the play was end to end although chances were few  and far between with neither goalkeeper being tested.   Bute did go ahead however in the 15th. minute when Scott Harvey shot from the left hand side of the goals to put the Islanders ahead, his strongly hit effort leaving the away keeper  with no chance to make a save.
Aberdour showed last weeks heavy defeat was forgotten and they continued  to match the home team in every area of the pitch. Their  efforts were rewarded after 22 mins when David McKenzie took advantage of slack play in the home defence going past several players  before finding the back of the net for a deserved equaliser.
The remainder of the first half continued in the same vein with neither team threatening the goal keepers.
The second half showed a more determined Bute side who gradually wore down the away team with their superior fitness and the Aberdour defence was under constant pressure. This resulted in Bute going ahead after 50 mins when a half hit shot from Craig Fisher from a very tight angle took a bounce just in front of the Aberdour keeper and nestled in the far corner of the net, a fortunate but deserved goal..
Bute did think they were going to score their third goal when a fine passing move from the forwards down the left resulted in a cross ball being struck cleanly first time by Josh Cowan, this looked goal bound until the keeper stuck out his stick and diverted the ball over the bar. Thomas Morrison then shot from 25 yards only to see his effort come back of the bar.
Although Bute dominated the remainder of the game they were wasting chance after chance to finish their opponents off and Aberdour were causing problems to the home defence on the counter attack, the home supporters were anxiously checking their watches as Aberdour showed they were still in the match and one of their upfield forays resulted in a firmly hit shot which required a first class stop from Bute keeper Stewart Stirling Jnr to prevent an equaliser.
The game finished with Bute still on top however the forwards were having an off day as frequent chances went astray with most efforts widely off target.
Top players on the day for Bute were the ever reliable pair of Marcus Planck and Ryan Craig with Josh Cowan having his best game of the season so far.
Manager James Craig was happy with the result against a team from a division above and looked forward to playing away to Col Glen in the next round.
South Division 2
Full Time
Bute 7 Uddingston 0
Bute's second team continued their fine unbeaten start to the season with a resounding 7-0 win over newly formed Uddingston at the Meadows on Saturday and despite key regulars Ben Watson, Ian Crawford, Iain McDonald and Gordon Currie being not available it was still a strong and youthful team that took the field and the changes in personnel did not disrupt the Islanders. Bute raced out of the traps with Rory McDonald firing low into the bottom corner after 7 minutes and Neil McKirdy doubling the lead on 8 minutes. Bute maintained control of the match and despite carving out several chances with movement from Archie McNaughton and distribution from Ruiradh Soane, could not add to their lead until 25 minutes when Neil McKirdy got his second of the day from close range. Bute were awarded a penalty on 35 minutes and Rory McDonald gave the keeper no chance as he confidently stroked the ball high over his head. Bute went into half time 4-0 up and controlling the middle of the park with Aiden McGregor and William Boag keeping a vice like grip on possession.
Bute started the second half on the front foot again with many of their best attacking opportunities emanating from strong half back play from Rueben Doyle and Liam Ferguson who were winning the ball high up the park around the centre line and driving their team on. Full backs John Wilson and Ryan Tierney dealt with any possession Uddingston had around the Bute box with the minimum of fuss; strong in the tackle and clearing their lines accurately, so effective was their play that Stewart Stirling in goals had barely a save of note to make. Rory McDonald completed his hat trick 3 minutes after the restart and scored his fourth with an absolute howitzer of a shot off his back hand on the run which screamed right into the top corner and an early contender for goal of the season. William Boag completed the scoring on 68 minutes getting the goal his hard work deserved with a low finish off the stanchion.
Bute had rotated their team with Ronnie McMillan on to add some physicality to the midfield, Craig Speirs looking to add to his goal haul and Archie Kilpatrick looking to use his pace to unsettled the tired Uddingston backline. Bute had more chances to further add gloss to the scoreline but could not find that killer touch. Neil McKirdy was unselfish with some passes to team mates instead of looking for his hat trick goal and one lay off found Archie Kilpatrick in full flow and his drive only just whistled by the post. Rory McDonald and Liam Ferguson were rewarded for their fine performances with places on the bench for the first team game against Premier League Oban Camanachd. This was a comfortable win for Bute against a physical opponent and with plenty of competition for places this will give manager Stewart Stirling food for thought as the season goes on.
MEDIA RELEASE:
Mount Stuart Trust gifts ownership of playing pitches to the Bute Shinty and Amateur Athletic Club
Today Saturday 30th October sees the official handover of the ownership of the Meadows playing fields to the Bute Shinty and Amateur Athletic Club from the Mount Stuart Trust. Following a donation of the land from the Mount Stuart Trust, the club took ownership earlier this year. Today a short ceremony to mark the occasion is taking place to coincide with an end of season friendly against local rivals Colglen. It follows an existing leasing agreement in a three way partnership with Argyll and Bute Council.
The proposal to transfer ownership stemmed from negotiations on the renewal of the ground lease from Mount Stuart Trust to the club when both parties agreed that the best way forward would be to transfer ownership. Mount Stuart Trust generously offered to do so at no cost and also included the wider Meadows area subject to the ongoing tenancy of Argyll and Bute Council. The club currently boasts one of the best clubhouse facilities in the sport and this new ownership of the pitches and surrounding land will allow the club to further  develop its ambitions for this important community resource for the whole island.
Speaking ahead of the handover Sophie Crichton-Stuart of the Mount Stuart Trust said: "Working closely with the team at The Isle of Bute Shinty Club we are delighted to be able to officially mark the handover of ownership of the playing pitches. Recognising the importance of the role of shinity and the club in island life and acknowledging the facilities as an invaluable resource for the wider community, it gives me great pleasure to know that this new ownership will allow the club to realise its ambitions for the Meadows and I look forward to visiting for a Shinty match or other future events."
The Bute Shinty and Amateur Athletic Club Chairman Barry Martin said: "This gift of the Meadows pitches will have a huge impact for the Isle of Bute Shinty Club. We are very much a community club with our clubhouse used for a huge range of events, with everything from Yoga Classes to Irish Dancing, weddings and funerals taking place here. Many will also be aware of the key role the club plays in hosting the annual Agricultural show and Highland Games and this transfer of ownership will allow us to move on and start to plan a much needed storage facility for the Agricultural Society/Highland Games.
Throughout the process the club is very grateful for the very generous support and advice provided by Elaine Campbell of Wm. Skelton and Co, Solicitors, which made the process very straightforward for us. In marking the handover today we are also taking the opportunity to recognise the many years of service of volunteer Margaret Whitelaw whose post match catering has fed many a team and its supporters over the years."
History of Shinty on Bute
Shinty has always been a feature on Bute even prior to the formation of any club sides on the island with the famous Buteman Cup being competed for since 1900. With guidance & support from the Marquess of Bute and Sir Colin MacRae, Bute Camanachd was formed in September 1907 as the first constituted club on the island with North Bute formed a short time afterwards. Early games involved friendlies and local cup competitions and by 1910 Kingarth Shinty club had also been formed.
In the 1920s & 30s only a strong North Bute side took the field combining the best players on the island and competed in the first Sutherland Cup final in 1923 against Newtonmore, losing by the odd goal in 5.
Following WW2 Bute Shinty Club was reconstituted and has remained the only island team ever since. The club has saw many notable victories over the years namely in the Sutherland Cup in 1972 and the Balliemore Cup on 5 occasions. Promotion to the top tier of shinty, the Premier league, was secured for the 2007 season 100 years after the first club had been formed on the island.
The club currently has 1st & 2nd teams in men's shinty, a burgeoning Ladies section and youth teams from primary up to u14 level.  
Mount Stuart Trust
Connecting people, art, land and learning, The Mount Stuart Trust is a Charitable Trust founded in 1985, which works to fulfil the vision of the late John, Marquess of Bute (1933-1993). He believed that the public should be able to enjoy Mount Stuart and its gardens and surrounding landscape, and benefit from its collections and archives.
The Trust owns and administers Mount Stuart and Bute Estate. The aims of the Trust are to conserve, preserve and maintain the house, gardens and surrounding landscape for future generations, whilst facilitating public interest, understanding and appreciation of fine and decorative art, architecture and the rural environment, and to promote access, education and research. www.mountstuart.com
Registered Scottish Charity number: SC009584.
Our annual general meeting will be held in the Clubhouse, the Meadows on Friday 27th. November with a 7-00pm start.
Many thanks once again to CalMac Community Fund for their award to our youth section, it was put to good use during covid19 lock downs.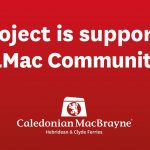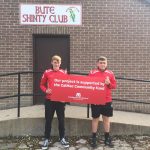 Our First Team have reached the semi final of the Balliemore Cup, they will face Beauly on 4th. September at the Jubilee Park Ballachuilish with a 3pm start.
Our Second team are at home the same day to Aberdour in a league fixture.
The sad passing of Johnny Bute.
There has been a feeling of shock on the island generally and it has been felt particularly within our club where he held the post of chieftain, he was also a personal friend of a number of the former players of his generation. We are all greatly saddened by his passing and would  pass on our condolences and best wishes to the family.
The connection with the Bute Family goes back to the Club's foundation in the early 20th century and Johnny succeeded his ancestors as chieftain, however, as a friend of several players, he played a particularly active role in the early/mid 90's when the Club built and then extended the current clubhouse and made extensive pitch improvements. Whilst it is fair to say he will always be more remembered for motor sports, he did wield a caman on at least one happy occasion in a celebration match as well as carrying out opening ceremonies in the clubhouse, on the first occasion with his father. We believe he was the only chieftain so far to actually take to our Meadows pitch. We have include  pictures from these memorable days, some more are permanently on display at our clubhouse.
We have always been aware of his benevolent hand being behind the club and that he was always a good friend to us. We hope that we will be able to continue to have a strong connection with the Bute Family.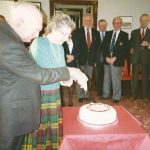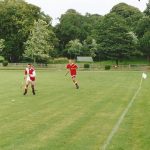 Barry Martin
Chairman
BUTE SHINTY & ATHLETIC CLUB SClO
Bute Shinty & Athletic Club Trustees' Annual Report – Year ended 30 June 2020
Reference and Administrative Information
Charity Name Bute Shinty & Athletic Club SCIO
Charity Registration No. SC049581
Contact Address The Treasurer, 3 Meadows Road, Rothesay, Isle of Bute, PA200ED
Trustees: Duncan Cowan, James Craig, John Maccallum, Heather Ferguson, Mel Williams, Appointed 29/11/2019 Marie Wilson, John Wilson Appointed 29/11/2019, John MacIntyre Appointed 29/11/2019, Stewart Stirling, Ryan Craig, lain McDonald Resigned 29/11/2019 
Principal Office Bearers: Chairperson   Barry Martin,   Vice Chairperson  Jimmy Duncan,  Treasurer David Herriot , Secretary Alan Liddell.
Independent Examiner: One 2 One Accountancy 10 Gallowgate Rothesay Isle of Bute PA20 OHR
Bankers: Bank of Scotland Direct 36-42 Montague Street Rothesay PA20 0BU 
Trustees' Annual Report- Year ended 30 June 2020 Objectives and Activities
The organisation's purposes are: The advancement of pub]ic participation in the amateur sport of shinty on the Isle of Bute in furtherance of which it will engage in the following: development and provision of opportunities to play the game of shinty at all levels (youth, adult and ladies) participation in league fixtures and national cup competitions across Scotland in club colours of red and white, provision of the facilities necessary to the achievement of the above purposes. To encourage a healthy life style for all ages by allowing access to the facilities by other groups and individuals. To promote any other sport or organisation which the members deem worthy of support.
Structure, Governance and Management Governing Document
The charity is a Scottish Charitable Incorporated Organisation (a SCIO). It was registered in its current legal form on 30/08/20I9. The charity was  previously  unincorporated.  The Assets of the Unincorporated Association were transferred to the SCIO on the 30/08/2019.  It has a Two Tier structure , therefore the board is elected by and accountable to a wider body of  ordinary members at an AGM. Members have ultimate control, rather than the board, which manages and supervises the activities of the organisation , and monitors its financial position
Recruitment and Appointment of Trustees 
All Charity Trustees are appointed or re-appointed by the members at the annual General Meeting or co-opted onto board as and when required.
Trustee Induction and Training 
The appointment of a new trustee is made after the Board' s discussion regarding the skills, abilities and experiences that they can bring to Bute Shinty & Athletic Club. On the recruitment of new Trustees they are given guidelines and documentation on their responsibilities. There is also a n explanation and discussion of roles and responsibilities during their first committee meeting.
Risk Management 
The Trustees assess the risks of the Charity regularly and have noted the main risks found as Health and Safety and Financial. These are being monitored and the Trustees are doin g
everything to minimise these risks. T he Clubhouse is currently on a short term lease
agreement for the land is currently sits on. As previously discussed in our Achievements we are in the process of purchasing this which will give the club stability and securit y.
Organisational Structure
Management of the charities affairs are vested in its board of Trustees. The board meet s on a regular monthly basis to discuss charity affairs.
                                             Trustees' Annual Report- Year ended 30 June 2020
Related Parties
The trustees have had some related party transactions with W & J Duncan Garage, which is owned by Jimmy Duncan who is our Vice Chair. These transactions total £759.86.
Performance & Achievements 
The charity aims to promote the sport of shinty on the Isle of Bute. It's on field activities are divided into three sections.
Ladies section
The highest achievers in the club in 2019 20, gaining promotion from the Women's Camanachd Association Development League via the development League Finals in Fort William to the South League, where they played 2 competitive matches including a first win at this level the week before the 2020 season fell victim to the pandemic.
The team were also invited to take part in the Mod Cup in Glasgow in October and competed well before being overcome by strong and experienced Premier League opponents Glasgow Mid-Argyll.
The ladies also made other charitable endeavours including raising£1420 for the local hospital by sponsored running, walking and cycling over 1000 miles during lockdown and assisting in delivering supplies to vulnerable people using the club minibus.
Men's teams
The men's teams competed in The National League and South Division 2 in 2019.
Despite some competitive performances the season ended in October with relegation to South Division 1. Bute fielded a very young side with the majority teenagers and also suffered from injuries, suspensions and retirements of some very experienced players. The amount of travel involved in the National League with several away fixtures involving 8 hour plus minibus journeys will always be a handicap at this level. The performances from many of the youngsters gave a lot of hope for the future. The senior side was also invited to the Mod Cup Final where they competed well with a strong Glasgow Mid Argyll side before losing on penalties.
The young development side also acquitted themselves well in South Division 2 finishing 5th again showing a future depth of talent.
Unfortunately neither side was able to play any games in 2020.
Junior section
Overview:
Bute always pride themselves on a thriving youth section and our current crop in 2019/20 is no exception, with participation levels excellent across all age groups and a group at nursery age for the first time introducing kids to shinty at a very early age. At youth level there is no distinction between girls and boy's shinty and all of our training sessions and competition teams are made up from a mixture of boys and girls. Our senior teams have been going through a transitional phase in recent years and, with many stalwart players retiring, our strong youth section has filled the void with some exceptionally talented young players who have taken on the mantle of senior players with aplomb. We have a large turnout at senior training but the majority of the players are between the ages of 14-19 which bodes well for the future of the club.
Competitions:
Bute P7 and under were successful in topping their section in the Cowal and Bute indoor winter league and qualified for the National indoor finals in Fort William, where they gave a good account of themselves but were unable to qualify for the latter stages. Bute PS and under and P3 and under were competitive in all their games in the Cowal and Bute winter league against tough opposition and did not disgrace themselves playing with great team spirit and gaining experience for the future. Bute u14 had a productive summer coming top of their section in the south u14 league and narrowly missing out on victory in the deciding play off against a very strong Oban team.
Training:
Junior training is once a week taken by 5 dedicated volunteer coaches with many youth players also participating in our senior training sessions which are run twice a week. Our coaches are happy to give up their spare time to coach our fantastic young players and also attend Camanachd Association run training courses to hone their skills.
Participation levels:
12 players at 15-19 year old in our senior first team 8 players at 14-16 year old in our senior second team 13 players at u14 level
18 players at P4-P7 level 14 players at Pl-P3 level
13 players at Nursery age level Off field activities
Off Field Activities
An important achievement was agreeing outline terms with our landlord Mount Stuart Trust for the transfer of the land on which the clubhouse stands, the pitch and some surrounding land to the club. The transaction is currently in the hands of the lawyers and has been delayed by the pandemic but it is hoped that this will be concluded in the next few months.
The club also as usual provided changing facilities for other sports notably football and rugby and the hall was let for various events and for keep fit, yoga and dancing classes although all of these also fell victim to the pandemic from March 2020.
As the restrictions eased club members with construction skills took advantage of the empty premises to carry out upgrading to the changing rooms which will result in much improved facilities for shinty teams and the other sports when activities resume. This has been an excellent voluntary effort by those involved.
Some senior trustees together with some of the ladies also assisted the voluntary efforts to help those shielding by delivering supplies using the club minibus.
The club was fortunate to gain substantial funding from the Co-op Community Fund late in 2019 which has helped greatly in purchasing materials for upgrading. Funding was also obtained from CalMac Community Fund for junior equipment and we were also successful in applying for the emergency funding available under the Scottish Government Retail, Hospitality and Leisure Support Grant Scheme which leaves the charity in a reasonably comfortable financial position despite the suspension of our normal fund raising events and club lottery. The application was made late in June and payment was received in early July meaning it is not included in the accounts for this reporting period.
We are proud that one of our new trustees, Mel Williams, was appointed secretary of the governing body the Women's Camanachd Association.
Overall our view is that despite our on field and fund raising activities being severely curtailed the charity has made use of the time and space and funding available to consolidate and improve the assets, which should put us in a better position to fulfil our objectives in the future.
Trustees' Annual Report – Year ended 30 June 2020 
Principal Funding Sources
Our main source of income is from the Co-op. Other funding  has come from other sources such as Clubhouse Bar for various private functions Fund raising Activities , Lottery run By Bute Shinty, and private individual donations. Calmac donated a grant in the year for Junior Shinty.
Reserves Policy 
Our policy is to keep six months of annual expenditure based on 2020 figures this equates to £16705.00. This would enable us to wind down charity in an orderly manner and honour any commitments we may have if the Charity was to cease. At 30.06.2020 unrestricted reserves amounted to £36,217.00 which is above the target level.
Statement of Trustees' Responsibilities 
The charity Trustees are responsible for preparing a Trustees Annual Report and Financial Statements in accordance with applicable requirements with the Charities and Trustees Investment (Scotland) Act 2005, the Charities Account s (Scot land) Regulations 2006. The Trustees are responsible for keeping proper accounting records, which, on request, must reflect the financial position of the Charity at any time. They are also responsible for safeguarding the assets of the Charity and must take reasonable steps for the prevention and/or detection of fraud and other irregularities .
Approved by the Trustees and signed on their behalf,
Chairperson    Barry Martin
Independent Examiner's Report to the Trustees of Bute Shinty & Athletic Club SCIO.
I  Report on the accounts of  the  charity for the year  ended 30 June 2020  which  are set out on pages I to I0.
Respective responsibilities of trustees and examiner
The   charity's   trustees   are   responsible   for   the    preparation    of    the    accounts    in  accordance  with  the  terms  of  the  Charities  and   Trustee   Investment   (Scotland)   Act 2005 and the Charities Accounts (Scotland) Regulations 2006.
The charity trustees consider that the audit requirement of Regulation I 0(1)(d) of  the  Accounts  Regulations  does  not  apply.  It is  my  responsibility  to   examine   the   accounts as required under Section  44(1 )( c)  of  the  Act  and  to  state  whether  particular  matte rs  have come to my attention.
Basis of independent examiner's statement
My  examination  is  carried  out  in  accordance  with  Regulation  11  of  the  Charities Accounts (Scotland) Regulations 2006.  An  examination  includes  a  review  of  the  accounting  records  kept  by  the  charity  and  a   comparison   of   the   accounts   presented with  those  records.  It  also  includes  consideration  of  any  unusual   items  or   disclosures in the  accounts,  and  seeks  explanations  from  the  trustees concerning  any  such  matters. The  procedures  undertaken  do  not  provide  all  the  evidence  that  would   be  required   in an  audit,  and  consequently  I  do  not  ex press  an   audit  opinion   on   the  view  given   by the accounts.
Independent examiner's statement
In   the  course  of  my examination    no matter has come to my attention
which gives me reasonable cause to believe that  in  any  material  respect  the requirements :  to keep accounting record s in accordance with Section 44(1)(a) of the 2005 Act and                                            Regulation 4 of the 2006 Accounts Regulations, and                                                                                                                                                                                                                                                                                to prepare accounts which accord with the accounting records and comply with Regulation 9 of the 2006 Accounts Regulations have not been met, or
to which, in my opinion, attention should be drawn in order to enable a proper understanding of the accounts to be reached .
Mrs LA Paul – AJAAP,  MTAB One 2 One Accountancy Services,  10  Gallowgate  Rothesay Isle of Bute, PA20 OHR
Date:
BUTE SHINTY & ATH LETIC CLUB SC10
Bute Shinty & Athletic Club
Receipts and Payments Account – Year ended 30 June 2020
                                                                                                                                                             Unrestricted Funds 2020

Restricted Funds 2020

 Total

2020

 Total

2019

£
Receipts                                                    Note 3

Donations
£15,972
                                         £15,972
Activities for generating Funds
£7,503
                                          £7,503
Membership fees/Donations
£1,175
                                          £1,175
Bank Interest Received
£126
                                          £126
£24,776
£24,776
—                         –     –               – –
Grants
£1,800
£1 ,800
Hall Hire
£5,470
£5,470
Bar Takings
£5,00 1
5,001
Janitorial
£1,5 00
1 , 500
Tax on Charitable Activities
£979
979
Miscellaneous
£85
85
– –
–   –
—
37,811
1,800
39,611

Total Receipts

Payments

Cost of Generating Funds
484
484
Charitable Activities                                                         4
30436
1,000
31, 436
Other – Assets                                                                  6
 613
613
Governance Costs                                                           5
1,873
1, 873
–     –
—
–   –
Total Payments
33,406
1.000
34.406
Excess of Receipts over Payments (payments

over Receipt) for the year
4,405
800
5205
Bute Shinty & Athletic Club

Statement of Balances at 30 June 2020

Unrestricted funds


Restricted funds


Total 2020


Total 2019


Bank and Cash Balances
£30,691
£30,691
£30,691
Balances brought forward

Movement in year

Excess of Receipts over Payments
2
4,405
800
5,205
Bank and Cash Balances

Balances  carried forward

35096

800

35,896

30,691

Balance C/Fwd

ASSETS
B/Fwd.
Minibus
10,000
Bought in Year:
6
Fridge
617
Tota l
10,617
The Accounts were approved by the Board of Bute Shinty & Athletic Club on 30th of November 2020.
Chairperson Barry Martin 
Alan Liddell   Secretary
BUTE SHINTY & ATHLETIC CLUB SClO
Bute Shinty &  Athletic Club
Notes to the Accounts
Trustee Remuneration and Related Party Transactions
During the year no trustees of Bute Shinty & Athletic Club received any monies for providing services. No trustees received Expenses on behalf of the charity in the financial year to 30.06.2020.
Movements in Funds
                                                                                                                        At 30.08.19                                                        Receipts                                   Payments                       Transfers                              At 30.06.20 
 Unrestricted Funds                                                                                   £                                                                           £                                               £                                         £                                              £
| | | | | | |
| --- | --- | --- | --- | --- | --- |
| General Fund | 2,635 | 30,946 | 29,284 | 3000 | 7,297 |
| Lottery Fund | 28,056 | 6,865 | 4,12 2 | (3000) | 27,799 |
| Restricted Funds | 30.691 | 37,811 | 33,406 | | 35,096 |
| Cal mac Grant Fund | | 18 00 | 1, 000 | | 800 |
| | | | |
| --- | --- | --- | --- |
| | 1,800 | 1. 000 | 800 |
| Total Funds                                                                                                   30,691 | 39,611 | 34.406 | 35.896 |
Purposes of Restricted Funds
Monies received from Cal mac are restricted to Junior Shinty.
Analysis of donations
                                                                                                                                                                                                     Unrestricted
Restricted
Funds
Funds
2020
2019
Analysis of Donations                                                                                                                                                                                                 £                                                                 £                                   £                 £
Mount Stuart Trust
958
958
Brandane Bulls
100
100
Co-op
12 ,055
12 ,055
Ettrick Bay
600
600
R Middleton Birthday Donation
340
340
Bag Pack -Co-op
694
694
Donation Nurses
100
100
Agricultural Society
200
200
Stick Donations
330
330
Kids Donations
394
394
Ballaninlay

Miscellaneous

100

101

100

101

15 ,972
0,000
15,972
 4. Analysis of Payments
Cost  of Fundraising Events

Fundraising Expenses

 

484

 

484

Charitable Activities

Bar Purchases

 

4,571

 

4,571

Minibus Costs
1,472
1,472
Rates & Water Rates
1,9 14
1,944
Lottery Prizes
3,500
3,500
Heat & Light
1, 787
1 ,7 8 7
Hall Rep airs
6,869
6,869
Pitch Hire
1 , 034
1,034
Pitch/ Land Repairs
1, 800
1,800
Insurance
3,478
3,478
Charitable Donation
20
20
Equipment (Net of Sale s )
2 , 180
1,000
2,180
Team Catering
1 ,350
1,350
Referee Expenses
20
20
Commission   Lottery sales
314
314
Admin costs
77
77
Miscellaneous
50
50

5. Governance Costs

Affiliation Fees
821
821
Licenses
602
602
Accountancy Fees                                                      _                                                                                                                                                                                                     450
450
                                                                                                                                                                                                                                                                                            32,793
1,000
33,793
                                                                                                                                                                                                                                             2020        2019
                . Other Expenditure in Year                                                                                                                                                                        £               £
Asset  – Fridge                                                                                                                                                                                                           61 3
                                                                                                                                                                                                                total                     613
We realise that you are very keen to come back, we would however ask for your patience and support, we are at all times working towards a structured and safe return for all.
---
Some good news to cheer us up during these very sad times, our application to CalMac Community Fund has been successful and we have been awarded £1800.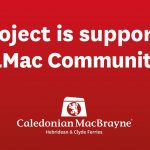 ---
Club Lottery:
Due to the closure of a number of our outlets and more importantly to protect the health of our members who collect the tickets and takings, we have taken the decision to suspend the lottery. We will be going to our outlets tonight and tomorrow morning for this weeks tickets, we will then have a draw until we have a winner. For anyone who has paid in advance we will add this on when we restart.
We would like to thank all who take part and look forward to your continued support in the future.
---
Taking into account today's government guidelines and Camanachd Association advice on the coronavirus we have suspended all training at every age group until further notice.
We have also cancelled the committee meeting due to be held on Monday 30th. March, if any committee members have any pressing issues to raise please contact Alan Liddell.
---
Statement from CA re Covid-19 (Coronavirus):
Following the advice issued by both the Scottish and British Government in recent days, we have taken the decision to postpone all matches under our remit until further notice, additionally, we would discourage clubs from training.
While it is unlikely that shinty matches would have exceeded the 500 person quota for events put in place by the Scottish Government yesterday, we are mindful of the concerns that exist and risk associated with the spread of the virus particularly to those most vulnerable and for those travelling long distances in close proximity to others. Consequently, we have taken the difficult decision to postpone all matches under our remit. With events moving so quickly on this unprecedented circumstance we have taken medical advice throughout the week and as the public concern for this situation has grown we now feel it is incumbent on us to postpone all matches.
The wellbeing of the people in our communities is primary in this decision and we hope that this decision removes any expectations or pressures on participating during a time that we can be focused on doing all we can to suppress the spread of the virus.
If you have any questions or queries please do not hesitate to get in touch with the Camanachd Association.
---
WCA Statement in relation to COVID-19 (Coronavirus):
Given the current developing situation in the UK and the announcements by the Scottish Governments, Scottish Football Association and other sporting bodies, in the best interest of player and community health and to help slow the spread of COVID-19 the WCA committee has discussed this afternoon and decided that all WCA governed Shinty will be postponed as of 2pm today until further notice.
Please share this with your club members and continue to follow government advice to keep yourselves, teammates, friends and family safe and healthy.
Bute Ladies were away to Ardnamurchan this weekend (8th March 2020) and secured their first win of the season.  Girls were down 1-0 at half time but played a great game keeping up their fight till the final whistle and managed to end the game with a 2-1 win.  Everyone played amazing and put on a great performance.  Scorers for Bute were Heather Ferguson and Rachel Dunn with Heather also being named referees player of the match. Well done ladies!
---
Bute Ladies first game of the season took place today (1st March 2020) at home to Oban Lorne Ladies.  Bute got off to a strong start but ended the first half 4-2 down.  The women put up a good fight in the second half however ended the game with a 7-4 loss.  Bute's scorers were:  Kiera Rutherford, Nile Lawrence, Anna Stanczyk, Heather Ferguson.
---
BSC attended a meeting of Argyll & Bute Licensing Board at Lochgilphead on Tuesday 25th February in respect of the club's application for a Sunday license for our ladies team and for an outdoor drinking license.  David Herriot gave an excellent presentation in support of our application which resulted in it being granted in full.  Bute Ladies and their visiting teams can now enjoy a post-match drink both inside and outside of the clubhouse.
---
The 2020 season begins for our men`s teams on Saturday 7th. March, our First Team are away to Col Glen and our Second Team are at home to Aberdour.
Bute Ladies Shinty starts their first competitive season with a home game on Sunday 1st. March against Oban Lorn.
---
We are very pleased to announce that after much hard work and endeavour David Herriot has achieved Scottish Charitable Incorporated Organisation status for our club and hereafter we will be called Bute Shinty and Amateur Club SCIO, our charity number is SC049584.
This will open up for us additional possible sources of grant funding and be of great benefit to our club.
Many thanks to David.