We held a management committee meeting tonight to discuss the resumption of training for under 17's and seniors.
Full contact training is now allowed for the under 17's under certain conditions, however we have decided to delay the restart until the schools have settled into the new session and their covid19 requirements.
We will meantime follow the CA guidance and complete the necessary paperwork and risk assessments.
The indicitive date given by the CA for senior training to start is 24th. August, guidance on this may change and we will not commit at this time to start on that date.
We will hold another meeting on 24th. August by which time we hope to have further information from the CA and Sports Scotland and will then make a decision on when to restart training at all levels and age groups.
We realise that you are very keen to come back, we would however ask for your patience and support, we are at all times working towards a structured and safe return for all.
---
Some good news to cheer us up during these very sad times, our application to CalMac Community Fund has been successful and we have been awarded £1800.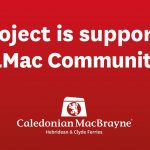 ---
Club Lottery:
Due to the closure of a number of our outlets and more importantly to protect the health of our members who collect the tickets and takings, we have taken the decision to suspend the lottery. We will be going to our outlets tonight and tomorrow morning for this weeks tickets, we will then have a draw until we have a winner. For anyone who has paid in advance we will add this on when we restart.
We would like to thank all who take part and look forward to your continued support in the future.
---
Taking into account today's government guidelines and Camanachd Association advice on the coronavirus we have suspended all training at every age group until further notice.
We have also cancelled the committee meeting due to be held on Monday 30th. March, if any committee members have any pressing issues to raise please contact Alan Liddell.
---
Statement from CA re Covid-19 (Coronavirus):
Following the advice issued by both the Scottish and British Government in recent days, we have taken the decision to postpone all matches under our remit until further notice, additionally, we would discourage clubs from training.
While it is unlikely that shinty matches would have exceeded the 500 person quota for events put in place by the Scottish Government yesterday, we are mindful of the concerns that exist and risk associated with the spread of the virus particularly to those most vulnerable and for those travelling long distances in close proximity to others. Consequently, we have taken the difficult decision to postpone all matches under our remit. With events moving so quickly on this unprecedented circumstance we have taken medical advice throughout the week and as the public concern for this situation has grown we now feel it is incumbent on us to postpone all matches.
The wellbeing of the people in our communities is primary in this decision and we hope that this decision removes any expectations or pressures on participating during a time that we can be focused on doing all we can to suppress the spread of the virus.
If you have any questions or queries please do not hesitate to get in touch with the Camanachd Association.
---
WCA Statement in relation to COVID-19 (Coronavirus):
Given the current developing situation in the UK and the announcements by the Scottish Governments, Scottish Football Association and other sporting bodies, in the best interest of player and community health and to help slow the spread of COVID-19 the WCA committee has discussed this afternoon and decided that all WCA governed Shinty will be postponed as of 2pm today until further notice.
Please share this with your club members and continue to follow government advice to keep yourselves, teammates, friends and family safe and healthy.
Bute Ladies were away to Ardnamurchan this weekend (8th March 2020) and secured their first win of the season.  Girls were down 1-0 at half time but played a great game keeping up their fight till the final whistle and managed to end the game with a 2-1 win.  Everyone played amazing and put on a great performance.  Scorers for Bute were Heather Ferguson and Rachel Dunn with Heather also being named referees player of the match. Well done ladies!
---
Bute Ladies first game of the season took place today (1st March 2020) at home to Oban Lorne Ladies.  Bute got off to a strong start but ended the first half 4-2 down.  The women put up a good fight in the second half however ended the game with a 7-4 loss.  Bute's scorers were:  Kiera Rutherford, Nile Lawrence, Anna Stanczyk, Heather Ferguson.
---
BSC attended a meeting of Argyll & Bute Licensing Board at Lochgilphead on Tuesday 25th February in respect of the club's application for a Sunday license for our ladies team and for an outdoor drinking license.  David Herriot gave an excellent presentation in support of our application which resulted in it being granted in full.  Bute Ladies and their visiting teams can now enjoy a post-match drink both inside and outside of the clubhouse.
---
The 2020 season begins for our men`s teams on Saturday 7th. March, our First Team are away to Col Glen and our Second Team are at home to Aberdour.
Bute Ladies Shinty starts their first competitive season with a home game on Sunday 1st. March against Oban Lorn.
---
We are very pleased to announce that after much hard work and endeavour David Herriot has achieved Scottish Charitable Incorporated Organisation status for our club and hereafter we will be called Bute Shinty and Amateur Club SCIO, our charity number is SC049584.
This will open up for us additional possible sources of grant funding and be of great benefit to our club.
Many thanks to David.